Working towards the top position in search results involves fierce competition. And Google's algorithm will be the judge. How can you win its favor, and what role do external links play in this? In our opinion, valuable link building can tip the scales in favor of better rankings. That's why today, we'll focus on the analysis of the external links gap.
The algorithm consists of many ranking factors, generally categorized into 4 groups:
Technical SEO (technical elements including speed, mobile-friendliness, security, and internal linking).
Content (everything related to optimizing content for keywords).
Off-site (external links that signal to Google where to direct the most value).
User signals (user indicators of the site's value, like core web vitals).
Furthermore, a crucial element to achieve a high ranking is meeting user intent. Without it, even the best external linking strategy won't yield high results.
Competition is Fierce
The primary factors for top 10 position are external linking and content. Imagine having two websites with comparable technical SEO. Good external links and content will decide what website outshines the other.
Read more to discover how to stand out and achieve better rankings.
Better Content First
Compare your content with your competitors', using SERP analysis tools such as Surfer SEO. This helps to identify what's missing from your content on specific subpages. If you present your content well it may appear in:
Featured Snippets (remember lists and headers),
User Signals (tables, images).
These elements impact not only traffic but also user satisfaction and conversion.
source: https://surferseo.com/blog/framework-for-pillar-pages/
External Links Second
Comparative analysis of website's backlinks still holds a degree of mystery. There is no unequivocal research showing that a link from Site A has a similar impact to a link from Site B.
Every website changes during its lifecycle. Nobody performs any link building activity in laboratory conditions.
So, how should you start gap analysis for your backlinks? Start by comparing domains where your competitors get links from – and that you do not. This will give you tips on where to get backlinks to catch up with the competition.
Guide to Backlinks gap analysis
Let's begin with what's necessary for conducting a gap analysis. Besides spare time, you need a designated budget, specialized tools, and reliable Excel. With these tools at hand, you are good to go.
Tools for gap analysis of external links
A list of tools to help you find referring domains for both you and your competitors. Keep in mind that each tool has its own external link database, and rarely do two tools cover the exact same links. The more accurate the data you want, the more tools you should consider using.
Ahrefs: The Link Intersect tool identifies websites linking to your competition, but not to you. The smallest cost for Ahrefs is $99.
Semrush: The Backlink Gap tool similarly identifies links your competition has and you do not. Semrush pricing starts at $108 per month.
Majestic: The Clique Hunter tool, like the two above, shows differences in referring domains (best to compare at least two competitors and your site). Majestic costs $50 per month as of July 2023.
Moz: Similar to Ahrefs, Moz's comparative tool is called Link Intersect. It helps you see how many referring domains your competitors have and you don't in your link profile.
I Have the Domains—What's Next?
It's time to find out how many of these domains allow selling backlinks. You can use one of the world's largest portal markeplace in Linkhouse. This will enable you to find a large number of websites, their pricing, and detailed offers in a few seconds.
Free gap analysis tool
You can do gap analysis for free by using the Backlink Gap tab in the Linkhouse dashboard. Input your domain, and the system will provide you with a list of suitable competitors. You can remove suggestions or add your own.
The tool will now show you a list of domains from which your competitors have links that you don't. You can buy these links within the Linkhouse dashboard.
A Sample Comparative Analysis: linkhouse.pl compared to funkymedia.pl and delante.pl.
Additionally, the analysis will reveal which domains link to your competitors (whether to all or specific ones).
Budget for Links from gap analysis
How to find out the budget required to get the links you lack? After completing the gap analysis in the Linkhouse dashboard you'll see the total cost in the top. It shows the pricing of getting links from all the portals that you don't yet have in your link profile.
This analysis will help you estimate the budget needed for external links to catch up with your competition.
Automated Campaign Based on the Gap
Linkhouse has more to offer. You can now create an automated campaign based on your competition using the Link Planner tool. Enter your domain, budget, language, and select the competitors you want to catch up with. The tool will analyze the backlink gap and list the portals to buy links from.
Furthermore, you can use your preferred SEO parameters for the portals. Sort by traffic, Domain Rating, or the number of referring domains. Personalize your campaign and buy only the links that suit your preferences.
Summary
Gap analysis (Link Intersect) is a method for finding places to buy sponsored articles (guest posts) that have before helped your competitors rank. Aligning your link profile enables you to assess whether specific groups of ranking factors need attention.
Yet, remember that SEO involves a range of activities. Comprehensive care for your domain is essential. This includes covering technical elements, content optimization, and the important human factor. With Linkhouse, you can rely on comprehensive support to help guide you to the top 10. Explore the services and discover how you can boost your website's online presence.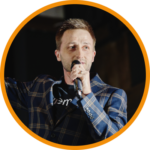 Author
Sebastian Heymann – SEO in his life has existed since 2011. Co-creator of the Link Planner tool. Creator of the only SEO training on the use of Google Search Console. He enjoys challenging, questioning, testing, and creating public debates. He's really into search engine optimization and analyzing data, and he's always eager to pass them along to others.