Google Analytics reports in Linkhouse: why and how to do it?
Website traffic statistics are one of the most important guides that Advertisers on the Linkhouse platform take into consideration. Although their submission is not required for adding an offer to our panel, their absence can lead to less interest in publications and links. Why should you post traffic information, how can you easily and automatically provide Linkhouse data, and how does Linkhouse present these statistics? We answer below.
Why share your website data with Linkhouse?
There are at least several benefits of making both the main traffic reports and additional statistics available:
Transparent information on the volume and traffic can positively affect the sales of displayed offers.
More details can attract informed Advertisers, who will select the type of publication and its value in the right way, so Publishers can receive better orders, more suitable to their activity profile.
Offers full of statistics, available to any Advertiser, have every predisposition for higher, reasonable pricing.
By making statistics available, you can save time spent on answering questions or making corrections after publishing/inserting a link.
"Get found" – accurate demographic data allows you to reach advertisers interested in reach ads and build brand awareness in your location or target audience. An offer containing a full set of statistics stands out not only from other proposals in the Marketplace, but also from many other forms of advertising that do not contain statistics at such a detailed level.
Which data and how does Linkhouse using?
Linkhouse only gets access to those statistics that you provide. They will be visible in the Marketplace to every signed-in user of the platform.
Instructions for sharing statistics
SENDING REPORT TO LINKHOUSE
It is possible to send Google Analytics reports – now you can do it directly from Publisher -> My Sites.

Clicking this icon will load a pop-up window with the option of uploading reports in PDF format, generated straight from Google Analytics.

This module verifies the correlation of the data entered manually by the Publisher with the actual status in Google Analytics.
After uploading the report as a PDF file, the prompt from "The report has not been added yet. Upload now" will change to "Report is pending moderation." It means that Linkhouse is checking the correctness of the data.
If the data does not match (it was taken from the wrong section or does not contain results for the last 30 days), a prompt will be returned indicating the source of the error.
Traffic verification is only possible for Google Analytics users at this time – we do not offer this option for other tracking systems. If you have problems with the availability of statistics, write to us at support@linkhouse.co
Types of Google Analytics reports accepted at Linkhouse
1. Google Analytics report: traffic
Log in to your Google Analytics account and select the RECIPIENTS -> REVIEW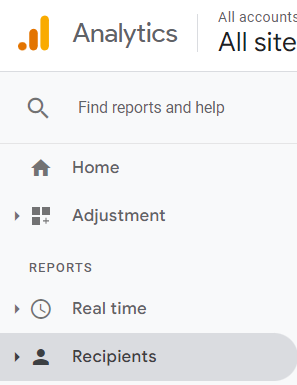 Then select a date range – the last 30 days – click APPLY, and then EXPORT -> PDF or SHARE -> Download file.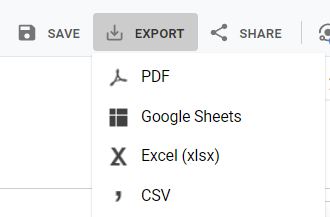 Then, you can upload the selected PDF files through "My Sites" for verification by Linkhouse.
Note that in order for your traffic statistics to be marked as verified, you must do so according to the instructions.
________________
In addition to the number of users and page views per month downloaded so far, we download additional reports from Google Analytics.
In the Linkhouse dashboard, we also provide other information about the website's audience that may be useful for Advertisers who want to narrow down their search as much as possible. The results will be displayed next to each offer when you hover on the Stats button. Publishers who choose to submit additional reports will receive an additional designation next to the offer. This will allow better exposure for Publishers providing a set of statistics about their portals.
2. Google Analytics report: demographics
Many Advertisers may be interested in data on the gender and age of a website's audience, so we provide the option to download such data directly from Google Analytics.
2.1 Google Analytics > Audiences > Demographics > Age
Then select the data of the last 30 days (calendar in the upper right corner of the panel), click "Apply", and "Share" according to the template for sending the report posted above. In this way, Linkhouse will receive the actual numbers and percentage data about the six groups of portal visitors.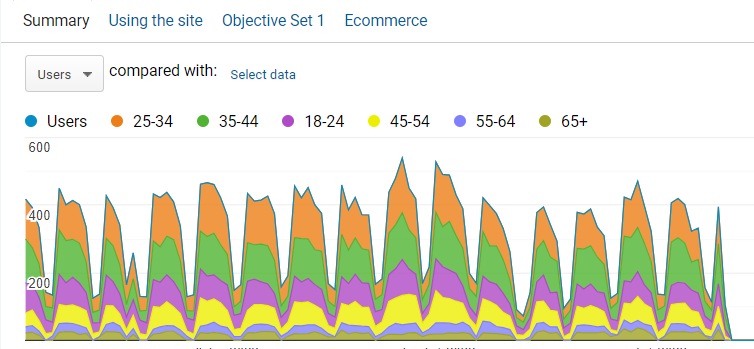 2.2 Google Analytics > Recipients > Demographics > Gender
In the same part of GA, we will also find information about the gender of portal visitors, which can just as easily be shared directly with Linkhouse.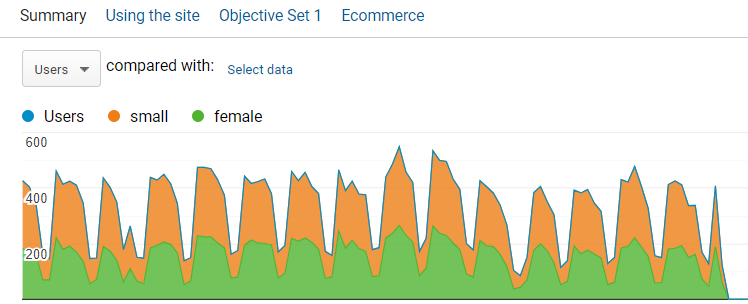 3. Google Analytics report: interests
In addition to specifying the industry of your offer, you can also enhance it with Interests straight from Google Analytics.
3.1 Google Analytics > Audiences > Interests > Similarity Categories
Here you can see related industries and those most similar to the content and subject on the portal.

To share data in Linkhouse, you have to select the range of the last 30 days in the upper right corner and download the PDF file, which will then be added to the "My Pages" subpage as instructed above.
3.2 Google Analytics > Audiences > Interests > Segments in the market
Similarly, you can display and share data related to segments in the market that correspond to the topics and content of the portal.

4 Google Analytics report: sourcing
Advertisers may often be interested in the sources of traffic acquisition for a particular portal. To make it easier for them to get this information, we have provided Publishers with the ability to easily submit such data to Linkhouse.
4.1 Google Analytics > Acquisition > Overview > All traffic > Channels
Data on top channels, number of users by traffic source can be easily shared with Linkhouse thanks to the "Share" option – downloading the PDF and uploading it to the Linkhouse dashboard via the "My Sites" module.

Please pay attention, in any case, before downloading the PDF, to the appropriate date range – the last 30 days!