How to place your first order at Linkhouse?
Wondering how to make your first order on the Linkhouse platform? Have you created an account and don't know what to do next? Not sure which modules and filters will work best for your business?
Here are 3 paths you can use. See a step-by-step guide on how to place an order on the Linkhouse platform. It's really easy!
1. Select an offer in the Marketplace
Log in to your account with your email address and password, and if you don't have one yet – register for free! You will automatically move to the "Marketplace" module. There you will find all the portals offered by Linkhouse (there are already more than 80,000 of them!) and the most important data about each site.

Specify what parameters and topics of pages you are most interested in and what will work best for your business. With this information, you can proceed to the filters that will help you choose the right websites for you. Choose the theme, website language and the price range you can afford.
If you have more specific requirements, enter the "advanced search" option. Linkhouse offers over 60 different filters! You can search for offers in terms of website parameters such as traffic, visibility, backlinks, trust flow and much more. All data is updated every 7 days, so you are always sure that all information about portals is true.

Advanced filtering allows you, for example, to select the type of website (portal, blog or forum), mark the possibility of tracking traffic, or share statistics. If you care about local positioning, you can also select a country.
Then you can also filter the parameters of the offer itself: the number of links, images, or characters in the article. There are many options!

Let's say you have a cosmetics company operating in Germany. Choose the subject line "Beauty and Cosmetics" and the German language of the site. Also specify what prices you are interested in. Then you can select the type of site: portal, and in the parameters of the offer choose more photos (in the case of the beauty industry, product photos can attract a potential viewer). If you want to show more than one brand, also opt for more links in the article content. An additional option for promotion on Facebook is also a great choice!
Once you've searched for specific portals, with filter options selected, you can now decide to order the item! Click "View offers", and see if all the parameters suit you.

Then press: "Order". You can choose the option of self-delivery of the text or writing the article by Linkhouse. The only thing left is to complete the purchase process in the cart.
In the order history you can pay the order from your balance.

2. Get help from our Support
If you don't know what websites will be most suitable for you or you are just not sure how to use the Linkhouse platform features most effectively – consult our support! You can do it using the contact form on the website, filling the brief on the platform or writing an email to support@linkhouse.co.
Describe your requirements and the problems you want to solve. With great customer service, you can follow all the directions without any worries and then enjoy the results! We look forward to getting your message!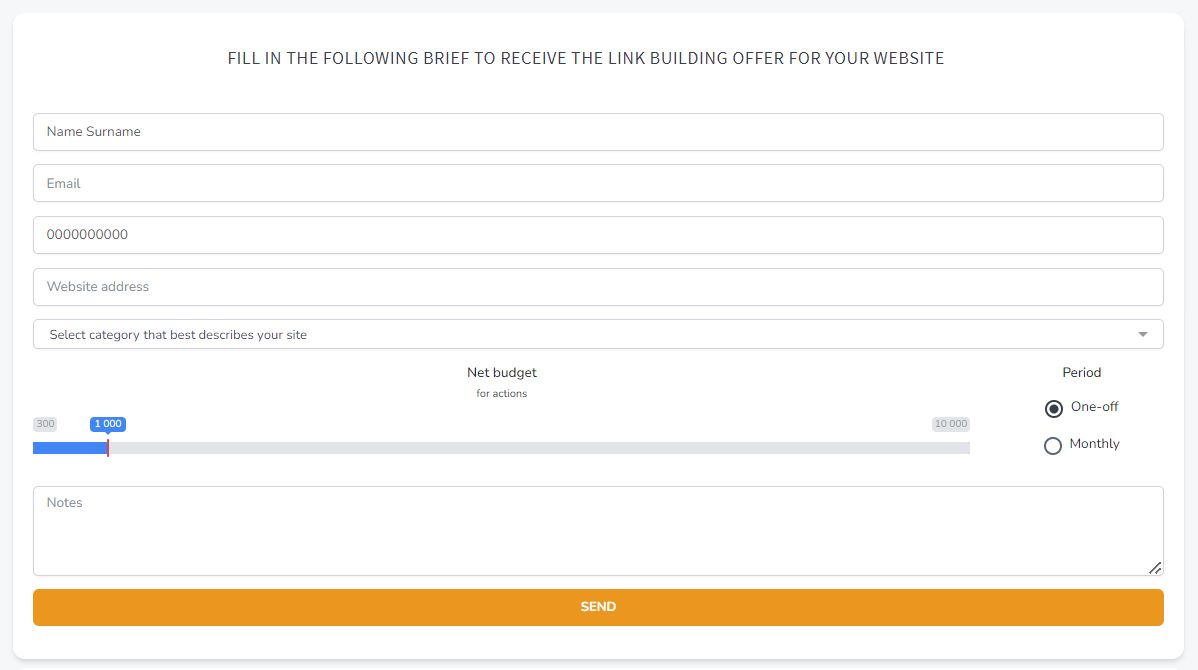 3. Use Link Planner or Backlink Gap Tool
How to choose the right sites for link acquisition? There are 2 dominant ways:
Websites from which your competitors have links
Websites that are thematically related and visible in the search engine
To find such listings even without SEO experience or knowledge, you can use our tools.
The first of these is the Backlink Gap Tool. Using data from Senuto, Semrush, Semstorm and Ahrefs, Linkhouse allows you to quickly prepare listings that meet the following conditions:
your competitor has a link,
your site the link does not have,
you can purchase the link on the Linkhouse platform.
With this module, you can check suggested competitors who already have links to websites that you haven't. In case your business has a single phrase that your competitors are also competing for, you can search for top-ranked sites on Google. You can filter all your searches by price, or the type of link offers available.
Link Planner is a modern link building tool based on an AI system that will prepare and execute a link building campaign for you. With it, you can increase your site's visibility in Google. In as little as 60 seconds you will receive a ready-made campaign plan, the preparation of which until now involved a lot of work, SEO knowledge, and the need to use many paid tools (including: Ahrefs, Majestic, Semrush).
Above all, both tools allow you to save a lot of time when planning campaigns and preparing offers, as well as to easily find thematically related sites for getting links. Having only the address of the website, you can check link prices and make an order in a few minutes!
Summary
The Linkhouse platform is very intuitive and easy to use. If you already have an account, there's no need to wait! With this guide you have learned how to place your first order step by step. In addition to guest posts, you should also pay attention to the Backlink Gap and Link Planner tools. This will save your time (you'll cut your work from hours to minutes!). It's also an easy way to find the best websites for link acquisition. If you need advice, support in choosing the right filters, or the use of the platform itself – contact customer service: support@linkhouse.co! We are here to help you make the most effective use of all the features of the Linkhouse platform.