Projects module: explained from A to Z
If you own one particular website then the matter of linkbuilding is much simpler. Your activities mainly consist of finding new sites to link to and buying more publications. The situation is getting complicated when there are many more of these websites or you want to create multiple campaigns. Then it becomes necessary to have a great organization of work and organize data on all your projects in one place. This is what the Projects module is for. Here's how to use it effectively from A-Z!
Where can you find the Projects module?
After logging into the panel, you will be automatically transferred to the Marketplace. From this module, you will quickly go to Projects by clicking on the Advertiser tab. You can find it just below the Orders.
Creating a project
Creating a project is child's play! Just press the green Add Project button. Then enter the name of the project, the website it will concern, choose the goal and add a short description. This will put all the information about the activities, within a specific campaign in one place!
Once you've added a new project, you can edit it at any time, assign it to a specific group, and close it when it's finished.

Searching for a project
In the panel, you can search for a specific project or filter by cost. Linkhouse offers constant, free access to the activity and parameters of your links. You can also track the total net cost of a particular project.
You also have access to already closed projects, so you can compare the results with your current campaigns. You don't have to look for statistics in emails sent or documents saved on your computer – just click Closed Projects.

Once you have registered on the Linkhouse platform, you can also easily export your existing linking. With this feature, you have the opportunity to organize them in a more convenient form and assign them to a campaign already continuing on the Linkhouse platform. You have all the data at hand within one project!
How to import links acquired outside the Linkhouse platform?
After adding a new project, click on the See project details icon. You will be taken to edit and there, under the heading Actions, you will find an icon that will allow you to Import links from outside Linkhouse. Why import links? You can then freely add them to the project chart, or filter them out when searching for new portals. Of course, you also have constant access to monitoring link activity, or tracking costs.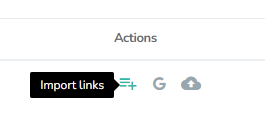 Analysis of statistics
To check the statistics of a particular project, click the See Project Details icon.
In the panel you will find data from the websites:
Ahrefs (Domain Rating, Reffering Domains, and Backlinks) – this is data that tells you the number of domains linking to a particular link, or backlinks. Domain Rating is also information about the quality of a domain. Data from Ahrefs will therefore help you determine how many links have been acquired and whether the linking is of quality.
Majestic (Trust Flow, Citation Flow, Referring Domains and External Backlinks) – Trust Flow represents the quality of links leading to your site, while Citation Flow reflects only the quantity of links, not caring whether the linking is qualitative. So the desired result is a higher Trust Flow. This data, like that from Ahrefs, will help you evaluate the quality of linking itself, and consequently rank higher and higher!
Senuto (Number of Phrases, Visibility) – This information shows you how you compare to your competitors. You can check how many phrases are in TOP3, TOP10 and TOP50 searches.
Semstorm (Visibility) – Visibility is a broader concept than just website traffic. This information tells us how wide an audience our site is visible to.

Adding notes
You can also add notes to projects on an ongoing basis. This way you will have the entire history of a given campaign at your fingertips. All you have to do is click the Add Note icon under the chart. There you will enter the text and select the date. This will help keep your notes in order, which will additionally be available in the Linkhouse panel.

Adding orders
In the detail options you can also add an order to a specific project. Scroll to the end of the order details page and there you will see the Filter orders option.

You can filter orders by selecting specific dates. There is also an option to add them to a selected project – just search in those existing orders on the Linkhouse platform.
Summary
The Projects module is ideal if you operate more than one website or want to create entire campaigns! You can assign your orders on the platform under specific projects and then create larger sub-projects from them.
With this module you will keep your campaigns in order. You have constant access to data on your links, costs, project status, or report generation. You can also easily import links acquired outside the platform, add notes, or specific orders. Full control over your projects from a single panel!
Projects is a constantly expanding module of the Linkhouse platform. If you have a question about its functioning, please contact us! You can do it using the form in your panel or by email at: support@linkhouse.co