Did you know that strategic user experience changes can increase conversions by as much as 400%?
When it comes to ecommerce business, this knowledge can make it or break it. It's not enough to get traffic on your website and hope for the best. Your visitors won't convert into customers just like that – they need a little bit of help.
Actually, you don't need to take our word for it. These statistics speak for themselves:
A whopping

88% of ecommerce customers

claim that they would not return to a website with poor user experience. What's more, a mere

1% of users

find ecommerce websites fully satisfactory. Let that sink in.

The average

cart abandonment rate

is

around 76%

. In other words, of every 100 users who added items to the cart, only 24 is going to complete the purchase. In most cases, you're missing out on three-quarters of all opportunities.

A similar fraction,

74% of users

are more willing to return to a website when it's

optimized for mobile

. We're going to discuss this aspect in more detail further.
We're prepared a list of the hottest UX trends in ecommerce to help you out.
Ready to learn more? Let's dive in to see how you can improve your own ecommerce business!
Mobile-first
Let's start with a groundbreaking announcement for both SEO and UX professionals. Starting from September 2020, all websites will be moved to mobile-first indexing. To be fair, 70% of them have already been switched to this model. Even if your website is in the other 30%, it's only a matter of time.
This is a clear sign that Google is treating mobile usability as a key ranking factor. It's also great proof that search engine optimization and user experience go hand in hand.
Here's what it means for your ecommerce business UX-wise:
Make the experience consistent – Make sure that the mobile version of your ecommerce store goes in line with the desktop one. Many users search for items on mobile devices first. Then, they turn to desktop to complete the purchase. It's a great opportunity to build trust and strengthen your brand image.
Keep the font size big enough

– The standards for mobile are different than the rules for desktop. The rule of thumb is a 16px minimum for mobile apps and websites. This is also important to keep the website accessible for everyone – we'll cover this aspect later.
Focus on page speed

– People use their mobile devices when they're on the go, which means the connection isn't always perfect. This is why keeping your page optimized for speed is an absolute necessity. Did you know that a delay as tiny as 100-milliseconds can

decrease conversion rates

by 7%? In this case, even a little improvement goes a long way.
Stick to intuitive navigation

– Have you ever heard about

Jakob's law

? The rule is pretty simple: don't reinvent the wheel. Jakob's law states that if your website works like other websites, the users will know how to use it. They already expect certain features to be located in specific places. Let's take the hamburger menu as an example:
All icons are commonly used by other ecommerce stores. Once the user visits the Ucon Acrobatics website, they'll know exactly what they need to do.
Augmented reality
What is one of the biggest obstacles in the ecommerce industry? You guessed it: you can't try the items before you buy them.
Luckily, augmented reality is here to help – and there are plenty of examples to prove it. Let's start with the fashion industry. Ever dreamt of a virtual dressing room? GAP has created one already:
https://vimeo.com/198481246
The solution comes with plenty of customization features. For example, you can change the model's body type to match your own. Then, you can see how the piece of clothing will look like from different angles, and if you like it, you can buy it straight from the app. Very handy, isn't it?
Same rules apply to shoes. Looking for the perfect pair of sneakers? You don't even need to leave your home. Instead, you can download the Wanna Kicks app: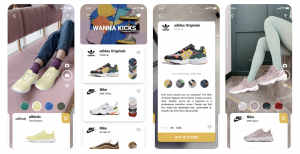 Yes, it's a try-on camera! You can see how the shoes fit, and if you like them – purchase the pair in just a few clicks. Simple as that.
The beauty sector has also been very successful in adopting augmented reality. One of the most prominent examples is Sephora and its Virtual Artist: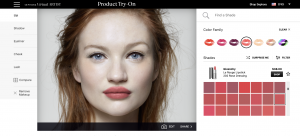 You can try different eyeshadows, lipsticks and other cosmetics on a default model, or you might want to upload your own photo and try everything on your own face. No need to visit the physical store!
Similar solutions are used by other beauty brands, such as Avon. In this case, the AR filter is a part of a Messenger chatbot: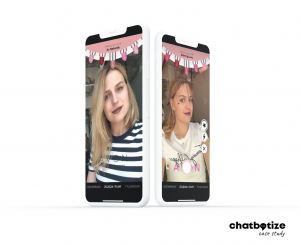 It's a fact: these solutions are becoming mainstream. Even the most popular ecommerce platforms, such as Shopify, are offering augmented reality features as a part of their service: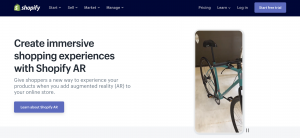 This particular option allows the customers to see 3D models of items in their environment. Let's say you want to buy a vase. With Shopify AR, you can see how it's going to fit on your shelf: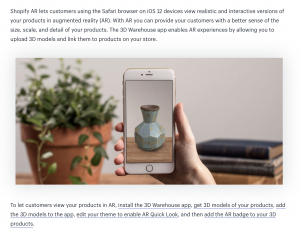 Looks great, but does it actually work for the customers? Can AR work as a substitute for brick-and-mortar shopping? Let's have a look at statistics about augmented reality in ecommerce to find out:
77% of all customers

prefer to use AR

to preview different variations, such as color versions.

61% of customers prefer to shop in stores that

provide augmented reality features

.

45% of customers claimed that

AI helped them save time

when shopping online.
The numbers look promising, don't they? If you're selling physical products, AR previews are definitely a UX trend to consider in 2020.
Micro-communities
No matter how fast technology is changing, the word of mouth still remains one of the most powerful marketing channels for your online brand management. Good UX answers human needs, and one of our basic needs is to be a part of a tribe. Here's how you can leverage the power of micro-communities in your ecommerce business:
User-generated content

– Your potential customers are much more likely to make a purchase when they can identify with the influencer, and there are numbers to prove it. According to

Stackla

, consumer find user-generated content

10 times more impactful

than regular influencer marketing campaigns. This is especially important when your ecommerce business is focused on millennials, as they create 70% of all

user-generated content

.
You can start with a dedicated hashtag. Look up to fashion giants for inspiration. This is how it's done by Topshop and Zalando:


This strategy works like a charm. For instance, the #topshop style hashtag has +400k posts as of March 2020. Customers are keen on sharing their creations and displaying creativity. What's more, it also creates a sense of belonging – they feel like a part of a bigger community: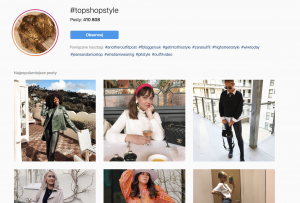 You can even go one step further and host contests, for your customers, like Daniel Wellington. This largely successful watchmaker chooses the most remarkable user-created pictures and reposts them on the brand's Instagram profile. The customer feels recognized and the photo serves as a source of social proof – a true win-win tactic.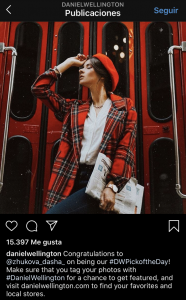 Last but not least, you can successfully use Instagram content on your ecommerce website. Have a look at this great example from Jennifer Taylor Home. The customers post pictures of their bedrooms, while the company uses these resources to show how the beds look in real people's homes: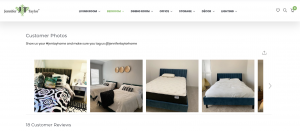 Facebook groups

– This strategy works particularly well for small retailers. When the customer is not sure about making a purchase, they feel like talking to someone who has purchased the same item before. Here's where Facebook groups come in handy.



A great example comes from a small Polish clothing brand, Karolina Garczynska. The customers use the group to dispel their doubts and share real-life photos of their purchases. The name of the group stands for "help and support":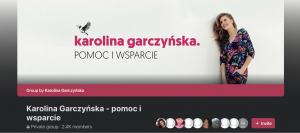 Chatbots
Conversational commerce is a separate name for ecommerce practices that rely on dialogue. Chatbots are one of the main tools to implement this strategy – and not without a reason:
One of the classic examples is the LEGO chatbot: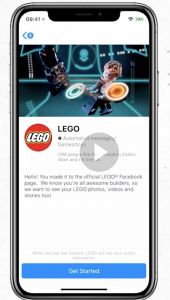 Launched in the 2017 Christmas shopping seasons, LEGO's chatbot, named Ralph, is a personal shopper that helps you choose the perfect toy.
Another interesting use case comes from Uniquely Accessorized, a store that sells customized Apple Watch bands. When you visit their website, the Messenger chatbot is already there to help you out: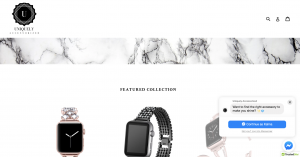 Here the user experience is largely conversational. The user feels more like talking to a person than interacting with a digital interface.
What's more, the Messenger chatbot has different options to choose from: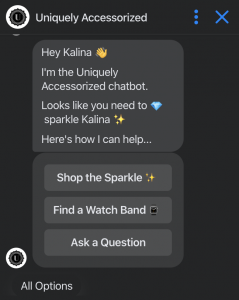 It works both as a personal shopping assistant and a customer service agent too. And the cherry on top – it works around the clock! Chatbots are an effective and affordable way to implement 24/7 customer service for your ecommerce business.
Key UX takeaways for your ecommerce in 2020
As you can see, there's a pretty wide array of UX ecommerce trends to choose from. Here are the most prominent tendencies described in a nutshell:
Design for mobile first

– Your customers are on the move and you should be keeping up with them.
Leverage augmented reality

– Make your offer more immersive, without asking the consumers to leave the house.

Create micro-communities

– Let your audience create a better user experience for themselves.

Start a conversation with chatbots – Decrease costs and increase productivity.