In the era of rapidly evolving technology and marketing 4.0, there has been a huge change in the way brands communicate with customers. This is particularly evident in the area of ​​e-commerce. Online stores' entry means competition not only with local brands but also with global players.
However, you are not left without support: marketing tools are developing just as quickly, thanks to which your work will be more efficient and effective. If you include at least some of the following in your daily activities, you will feel the difference in favor of results and workload.
Google Marketing Platform
Tools from Google are already a fixed point in e-commerce marketing. They are used to analyze website statistics: among others user traffic on the website, sources of acquisition and effectiveness of advertising campaigns.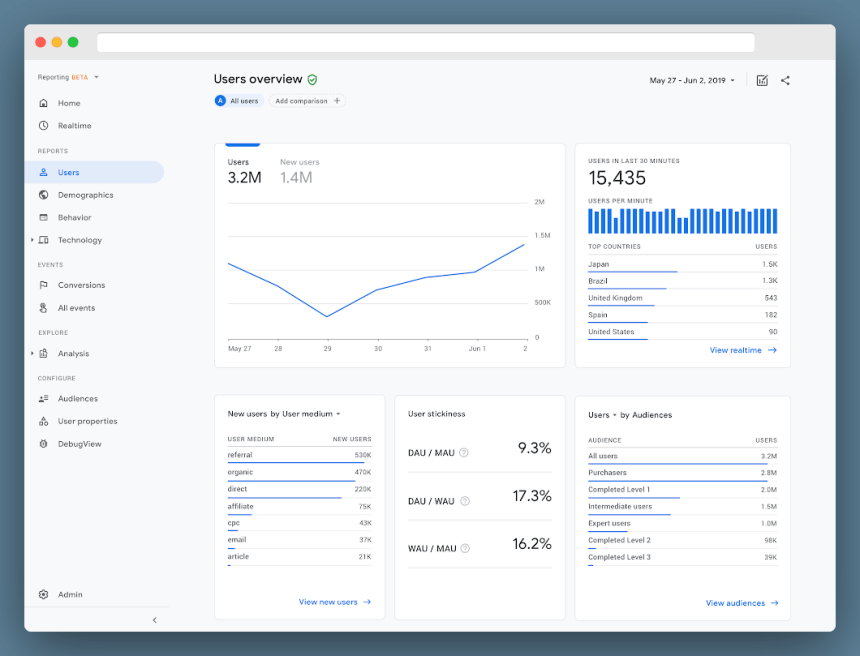 Individual tools deal with specific areas of analytics, but they integrate strongly with each other. In this way, Google Analytics provides data about the website, Google Tag Manager allows you to manage various tracking tags on the page, expanding the data transmitted to Google Analytics, Google Optimize helps in conducting A / B tests on the page, and Google Surveys gives the opportunity to obtain specific information from your customers through surveys. Do you need to present the received data in a transparent way? Use Google Data Studio.
If you combine these products into one, you will receive a powerful tool to improve your online marketing activities. You'll find out which customer groups are best invested, which areas of your site need improvement, and which channels bring you the most conversions.
Google Marketing Platform will provide you with data about your users, their website behavior, conversion results and other factors that directly translate into the results of your e-commerce business. By using them when planning and modifying your actions strategy, you can make better and more informed decision
LiveSession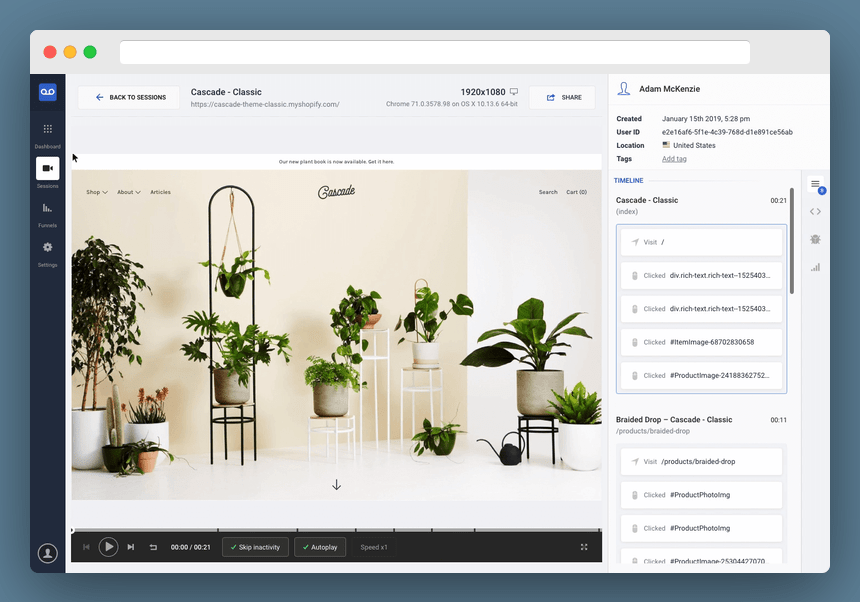 LiveSession is a tool that allows you to record and analyze user sessions on your site. You can check how users navigate it, what elements are clear and intuitive for them, or where they encounter problems.
Session recording and playback is a qualitative analysis tool that allows you to understand the background and context of quantitative results. If in Google Analytics you see that in a certain group of users the conversion is significantly lower than in another, by analyzing the session of a user from this group you can understand what factors influence this decrease.
This analysis will also show you how you can improve the design of the site to better meet the needs of users. In this way, you have the opportunity to check how it is displayed on different devices, and better tailor the design.
Thanks to this, you can be sure that the layout of your website does not inhibit your sales results.
Sentione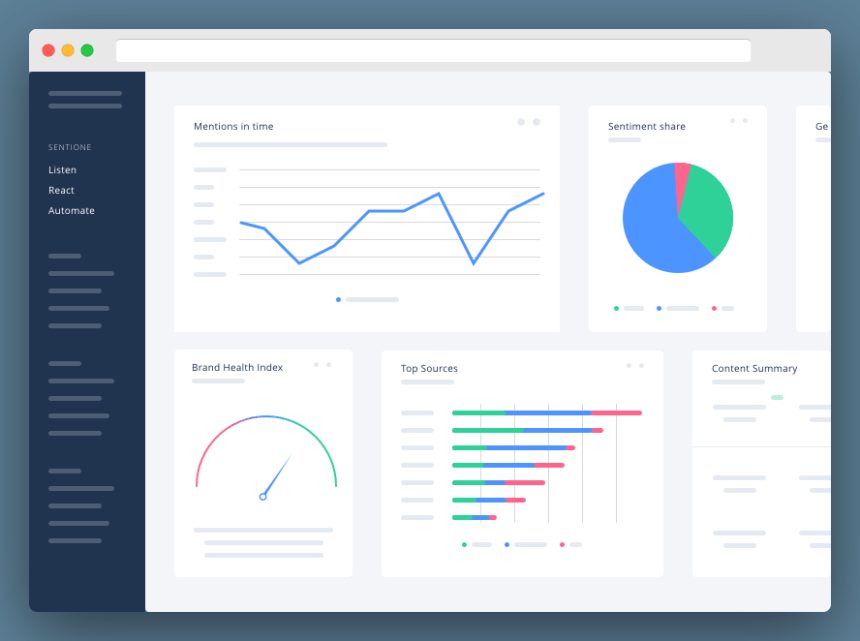 SentiOne allows you to monitor the internet and introduce chatbots to customer service. By setting your search to specific phrases, such as your store name or industry, you can quickly respond to your customers' mentions and comments. You will be more aware of how your brand is perceived.
Knowing where and how you are talked about you, you can show your presence on social media and enter into a dialogue with the recipients. Thanks to this, you can react if someone is looking for your product and you learn faster about failures and problems. In turn, knowing why customers recommend you or resign from your services will give you a preview on how to promote yourself or what to improve in your business.
SMSAPI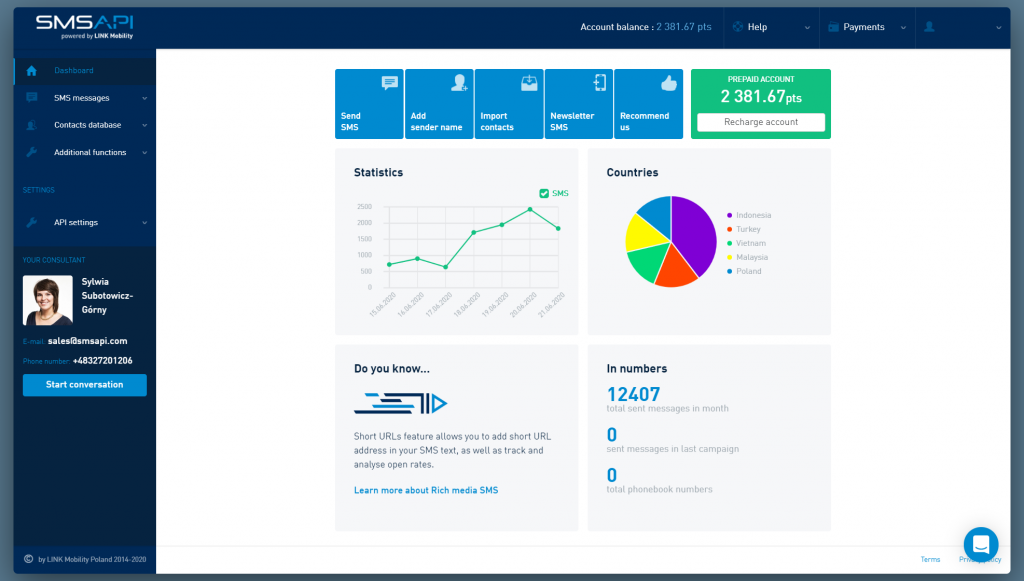 Text messaging, whether is promotional, transactional or used as a mean of authorization, is an essential tool for an online business. Its potential comes from the fact that SMS messages reach customers' phones directly, and have higher open-rate than any other medium. SMSAPI is a global mobile communication provider. Use the intuitive customer portal, mobile app or open API to send SMS campaigns worldwide. Numerous integrations with e-commerce systems allow you to optimize and automatize B2C communication with reliable yet affordable text messaging.
Freshmail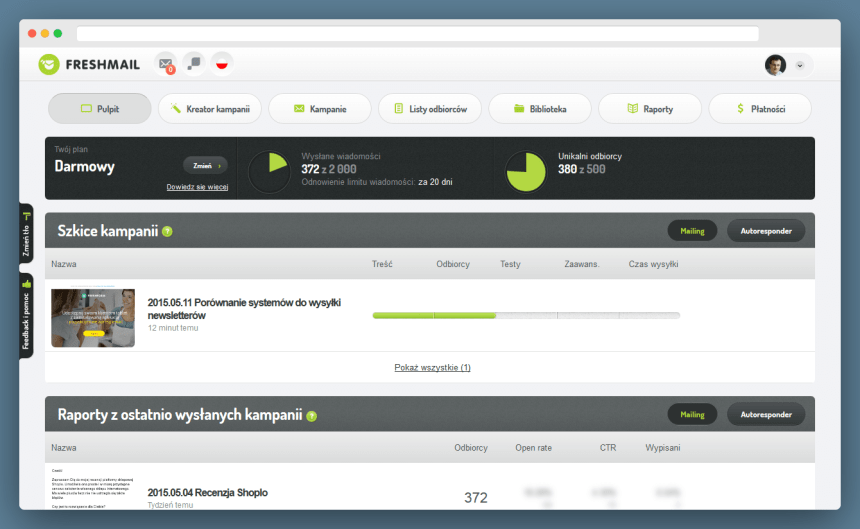 Freshmail is an email marketing tool that allows you to prepare and send out a newsletter to your customers.
Newsletters are already a must-have in the e-commerce business. If you design them the right way, you can achieve higher than average results and support sales at various stages.
By sending personalized messages, you can establish a more personal relationship with the customer and use the effect of brand attachment.
JookSMS

JookSMS is used to plan and send SMS campaigns.
SMS marketing is another option to increase the engagement of your customers. Compared to newsletter opening statistics, SMS are much better than emails: the average opening rate is 98% compared to 20%. You can use them to inform your customers about short-term discounts, order confirmations or to support other marketing activities.
Kontentino
Kontentino helps in managing social media. In it you can prepare posts, evaluate them and schedule their publication on Facebook, LinkedInie, Instagram, Pinterest or Twitter. There is also an analytics option, so you can check which posts work best and use this information to optimize your social media activities.
When you have several social media accounts, being able to schedule all your posts can help you make better use of your time. You will not worry if you will definitely have the opportunity to post a post – just plan it in Kontentino.
ReferralCandy
ReferralCandy helps you run a referral program for your clients: for each person referred, your existing client can receive a reward. ReferralCandy manages these commands, giving you access to analytics and connecting to platforms you use, such as Shopify.
According to a survey by Texas Tech, 83% of satisfied customers would be happy to recommend a business to their friends. If in your case the percentage of commands does not match this result, you do not have to worry – the same research shows that only 29% do it. An additional incentive in the form of a discount code or other bonus may reduce the distance between these results, which will affect your financial results.
WebEngage
WebEngage is a tool that helps you design, automate and at the same time personalize communication with your clients, which will translate into their higher commitment. How it's working? Specific actions of your client, such as abandoning the basket, will send them a reminder message that you have set.
If you include such a tool in your communication strategy, you will improve it on several levels. The sent messages will be more personalized: after connecting WebEngage with your databases, you will use not only the names of the users, but you can also notify them that the items on their wish list are currently on sale. You can react faster by sending messages at the perfect moment.
If you properly use such reminders, you can combine different communication channels and use the synergy between them. This will not require any commitment on your part: once the algorithm is set, messages will be sent automatically.
When you send messages tailored to the shopping moment of your clients and their particular situation, you can establish a more personal relationship. In the era of generic mailings or poorly personalized notifications, this is an option to stand out from the crowd and easier retention of existing customers
.
Adzooma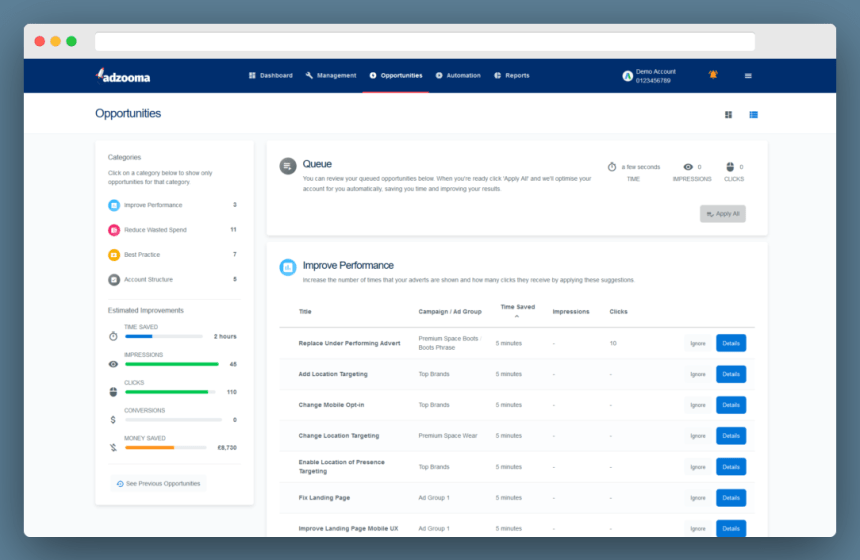 Adzooma is used to manage and optimize advertising campaigns. It acts as a virtual advisor, monitoring the results of your ads, excluding unsuccessful campaigns, and creating optimization suggestions based on your historical results and best practices from other campaigns.
If you see the potential in your ads, but you don't have the time, skills or someone who would be able to watch over them, Adzooma may be the solution. You can make better use of the available budget and thus increase the profits from running your store.
LiveAgent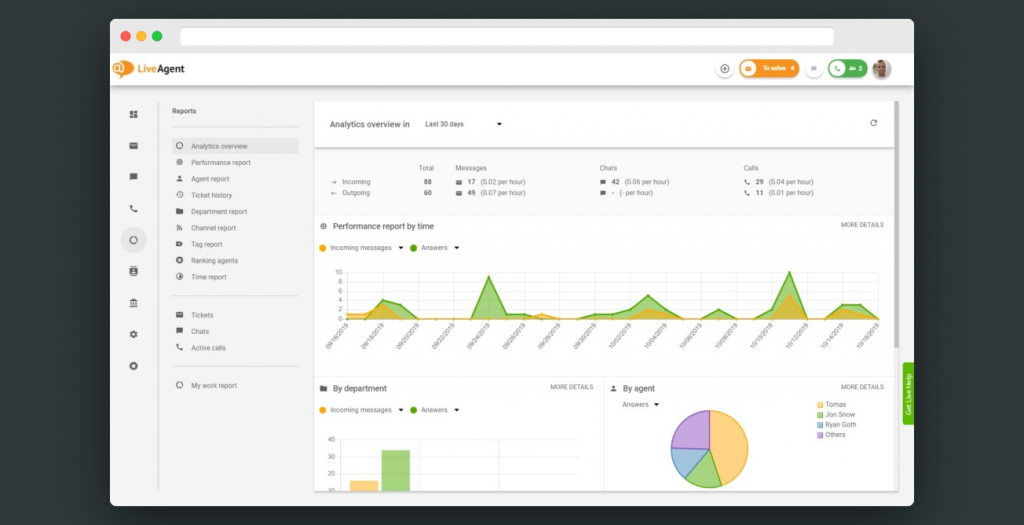 How can LiveAgent help you manage your e-commerce activities? Well, if run e-commerce business, it;s likely that you handle a lot of requests and deal with many messages. LiveAgent delivers you a suite for effective customer service: with their quick live chat widget, you can deal with many requests same time and serve your clients better. With knowledge base, help desk software, ticketing and call center, you can provide flawless customer experience. Additionally, you can use Social Inbox to gather some messages from platforms you maintain customer service for your e-commerce clients at.
RocketLink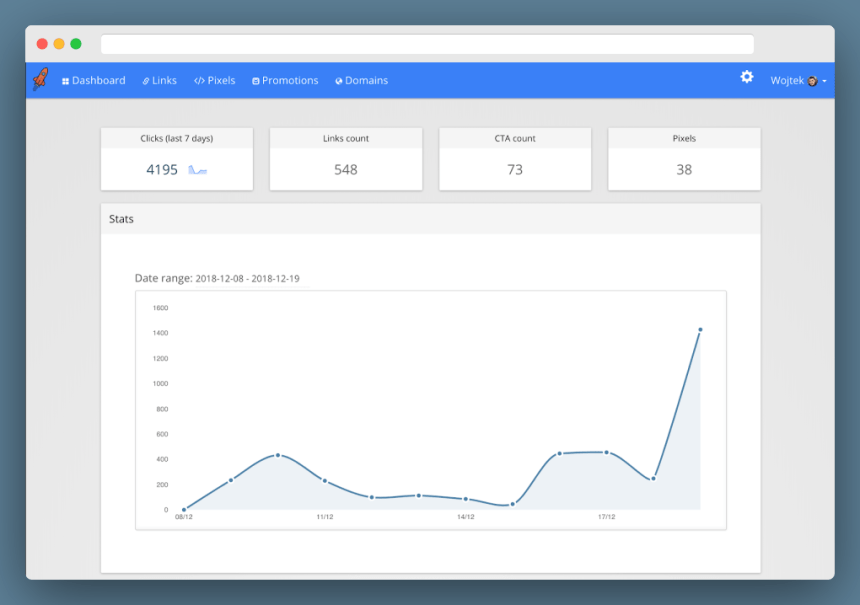 RocketLink is a platform that opens up more possibilities for retargeting and remarketing. You can add a pixel to any shared link, even one that leads to an external page. It will allow you to create a new target group for your ads, where there will be users interested in a given link.
If you run advertising campaigns, you will quickly notice that those that have a precisely defined target group bring much better results. Creating links using RocketLink will allow you to reach with your ads people who have already shown some interest in your site or product.
Ahrefs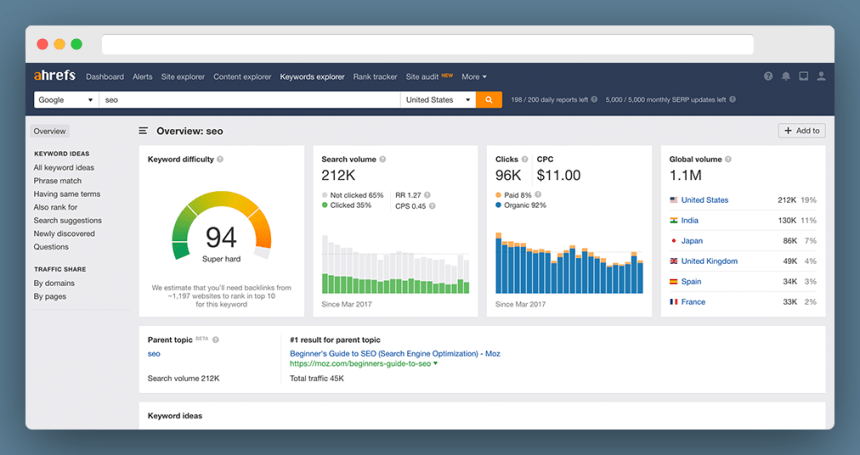 Ahrefs is a powerful tool for working on your website's SEO. You can search for keywords in it, compare your website with competitors and analyze their and your activity in acquiring backlinks.
Search engine optimization (SEO) will allow you to get more traffic from search engines. Caring for positioning and keywords, your store will appear higher on Google and it will be easier to find: you will meet the customer needs.
Don't forget to equip your warehouse team (it's also a crucial part of ecommerce, right?) with a reliable inventory management system.