We are more than excited to announce Linkhouse plugin for ChatGPT, built with OpenAI.
With the most advanced technology, you can now get the AI to research and buy for backlinks tailored to your domain and budget.
Building links to your website is now simpler than ever.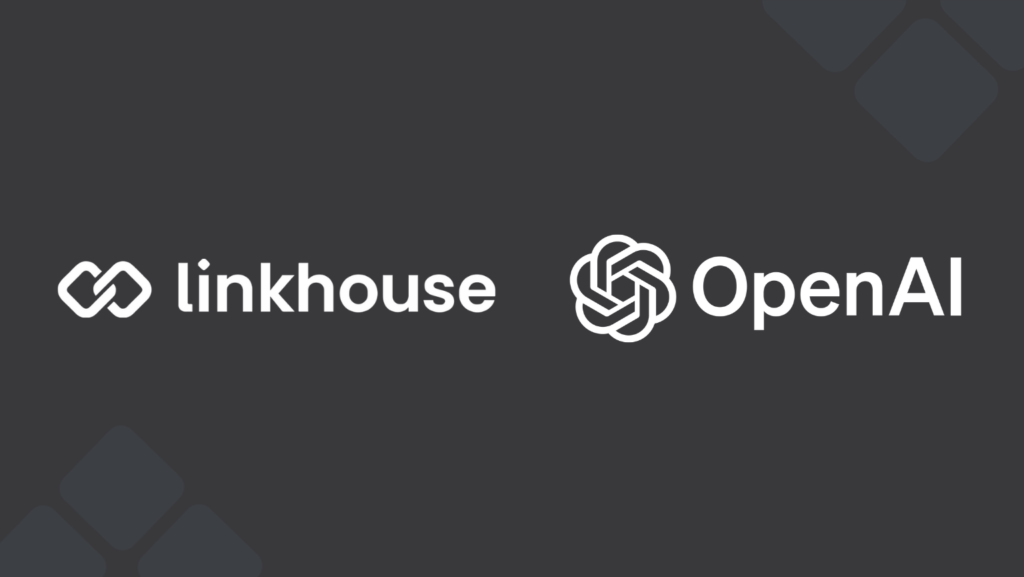 The value of AI in link building
Here at Linkhouse, we have always strived to stay up-to-date with the current state of SEO. AI is not an exception.
Tools we build are accesible for everyone from complete beginner to SEO expert. We used OpenAI technologies to make link building even easier.
Per Search Engine Land, link building is the least favourite part of SEO! The hardest and most time consuming parts of building link profile are research, analysis and outreach.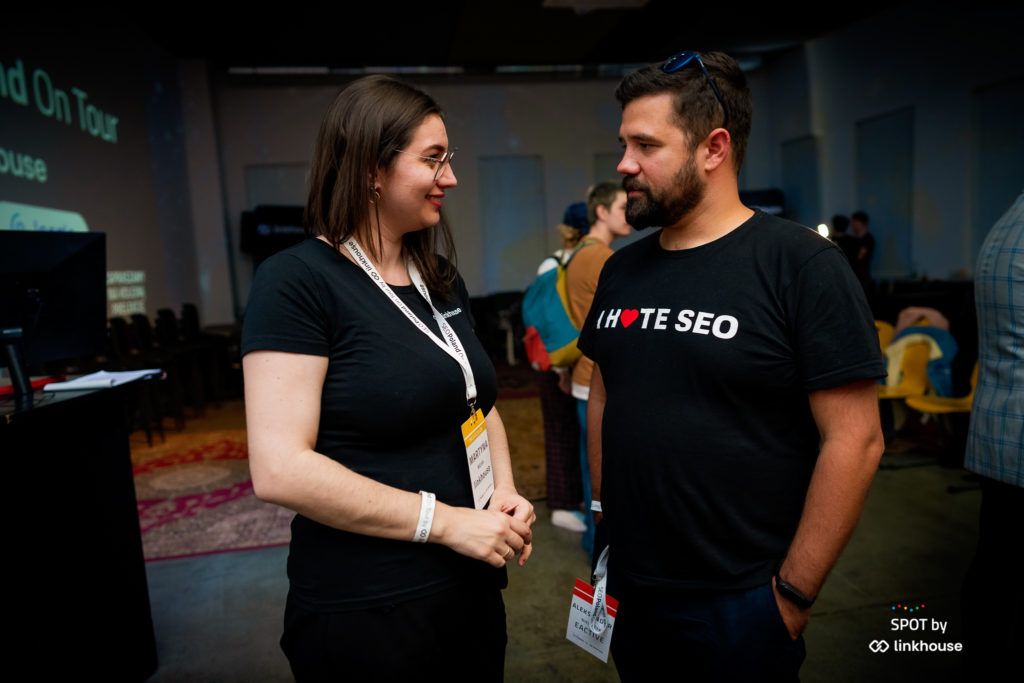 Here's where AI-fueled Linkhouse comes in handy.
Linkhouse (the platform, the brand new plugin and Link Planner it is based on) helps to plan a complete link-building campaign in minutes, taking into consideration over 40 parameters. We source the data from best tools and and blend them with our unique factors to produce ready-to-buy list of backliks placements.
Damian Kozłowski, co-founder of Linkhouse, notes:
AI-based assistants will increasingly influence our lives and work in the future, and users will expect tools to have the ability to communicate through a conversational interface in a 'human-like' manner.
Martyna Mojsa, CEO of Linkhouse, adds:
Linkhouse utilizes new technologies to revolutionize the SEO industry by introducing innovative tools based on artificial intelligence. This allows us to offer more precise and efficient SEO analyses, far exceeding traditional methods of manual data review. Process automation also allows us to shorten the time required for analysis and recommendations, which translates into faster results for our clients. By tracking and interpreting SEO market trends, we are able to provide our users with up-to-date information and optimization strategies that help them achieve better results in search engines.
What is the Linkhouse Plugin?

The Linkhouse plugin is a tool that assists in building links to your website. It is based on a well-known Link Planner, a flagship tool for link building automation.
Once provided with the domain, the plugin performs a deep analysis of the website potential and checks backlink marketplace in and out to filter out the best placements among more than 65 000 websites.
The AI helps finding only placements relevant to your industry (this however may need to be specified during the conversation) and with high domain authority. The plugin automatically selects the best sites for link building, based on the budget you set.
The plugin utilizes the features of Linkhouse platform – for instance we check your link profile with Ahrefs to ensure that the proposed backlinks differ from those you already have.

How to Install the Linkhouse Plugin?
Installing the Linkhouse plugin is straightforward and quick. Here are the steps you need to take:
1. First, make sure that you have an access to the latest Chat GPT-4. It is available for Chat GPT Plus users.
2. Enter OpenAI chat. In the bottom left corner, click on your account name.
3. Click on Settings.
4. In the Settings menu, click on Beta Features.
5. Look for the Plugins toggle.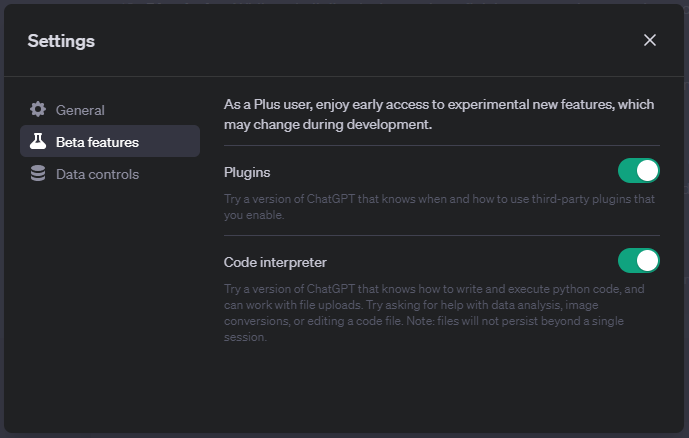 6. Click on the Plugins toggle. An 'About Plugins' message will appear the first time you do this. Read it and, if you agree with the terms, click OK.
7. Open a new chat and hover to the top, where you can switch between Chat GPT-3.5 and Chat GPT-4 versions. You should be able to select a plugin powered model from a drop down menu. 
8. Select the 'No plugins enabled' option located under the GPT mode switch.
9. Proceed to the Plugin store.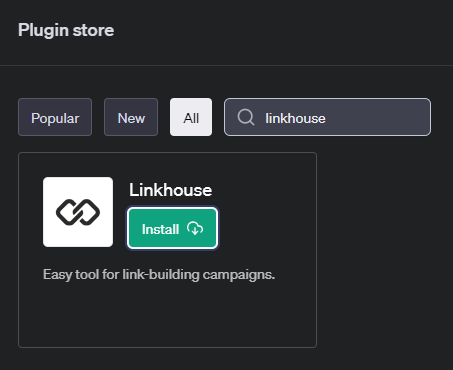 10. Type "Linkhouse" in the search bar. The plugin should be now located in the search results. Hit the Install button. 
11. Exit the store by clicking the X button.
12. Select the 'No plugins enabled' option under the GPT mode switch once more. You should now be able to see the plugins you've installed and the number of active ones.
13. To activate a plugin, click on the check mark next to it.
Once a plugin is activated, its icon should appear under the GPT mode switch.
How to Use the Linkhouse Plugin?
Using the Linkhouse plugin is even simpler as its installation. Once the Linkhouse plugin is installed and enabled, you basically engage a conversation.
Here's how to do it:
1. Open new chat.
2. Ask ChatGPT for help with your SEO or link building.
Try prompt such as:
"Plan link building campaign for <domain>"
Or:
"Where can I get backlinks for <domain>?"
3. The AI will ask you to specify your budget and it can assist in estimating it. It will also inquire about the thematic category of the domain and the indicators that are important to you (Trust Flow, Domain Rating, etc.).
You can specify them in the conversation, ask ChatGPT for explanations, or prompt it to suggest solutions on its own.
4. ChatGPT will prepare an offer and show all the details in an easy-to-read table. It will also include a link to the Linkhouse platform.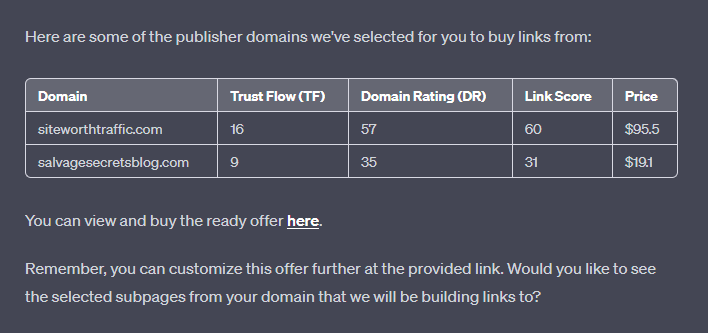 6. If you are satisfied with the offer, click on the link and proceed with the order in the Linkhouse panel. You can provide further instructions concerning copywriting later.
With the Linkhouse plugin, improving the SEO of your website is now easier than ever. Install the plugin today and watch your site rise in search engine rankings!