How is it that some sites rank better than others? They seem to be unoptimized and with little content, and still appear very high on a lot of very difficult phrases. It can also be frustrating that no matter how well we optimize our website and no matter how much and how good content we add, we usually lose with the others. After all, there were so many updates to the Google search engine, and still the most important ranking factor is the so-called link profile. Therefore, in this article I will try to answer the question: What links will help us become the leader of our industry in SERP rankings?
Let's check the strengths and weaknesses of some of the biggest players in their industries
Apteka Gemini is currently the second largest online pharmacy in organic results. Therefore, it might seem that the website has been refined and a SEO specialist won't have any objections. It turns out, however, that there are a few things that can be done better.
If we analyze a product subpage, we can notice two things. First, the speed of the website should be improved. The result of the Octenisept liquid subpage is only 23 for the mobile version and 62 for the desktop version. In my opinion, these are poor results, especially since it is a very simple subpage that does not contain many elements.
The second interesting thing that we can notice is that the descriptions of individual products are completely copied from the manufacturers, and there is no unique content on individual subpages. Of course, this does not prevent the Gemini Pharmacy from completely dominating its competition for product-related phrases: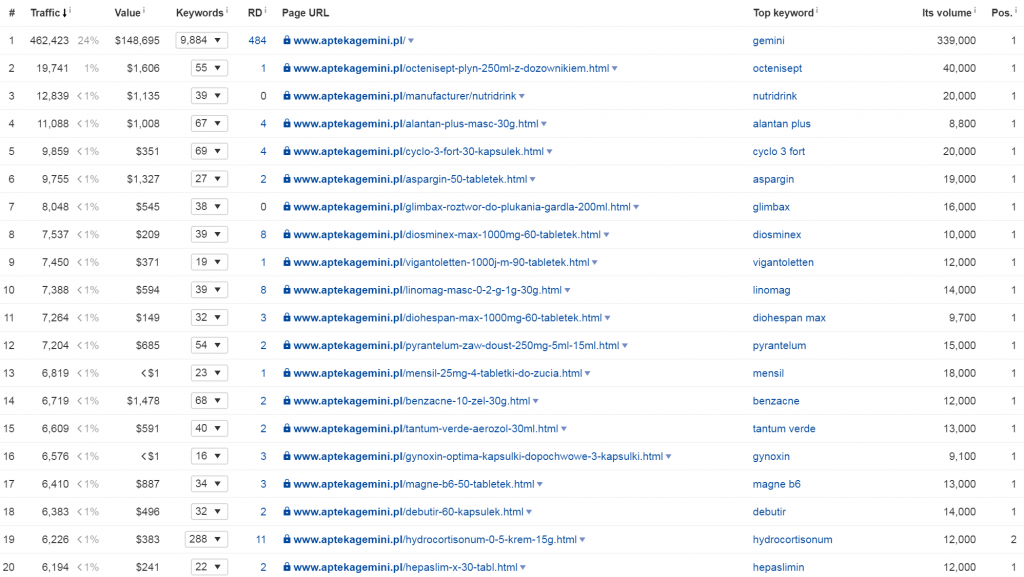 List of the most popular product pages – source Ahrefs.
Particular attention should be paid to the fact that the page is displayed in the first place on almost all product names.
Gemini pharmacy dominates the competition mainly due to the fact that it has the strongest link profile in its industry and it is probably the best link profile in the entire Polish Internet. With such a strong domain, you can easily position any phrase from the medical industry.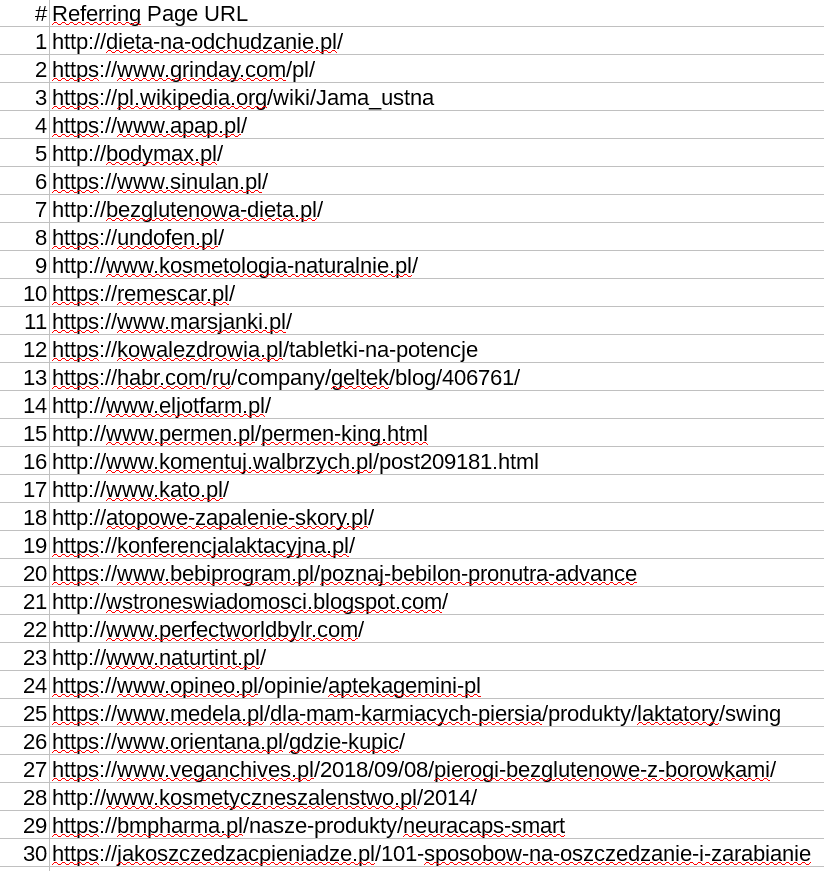 Top30 best links pointing to AptekaGemini.pl – source Ahrefs
Links from almost 2000 domains lead to the domain. A large part of which are links from manufacturers' websites, cards of individual products, websites of medical facilities, industry portals, etc.
Festool is a very popular German manufacturer of DIY equipment. It has a product catalog on its main domain and does not sell directly. Therefore, all distributors, industry portals and even competitors are very eager to link to it. If we look at the link profile, we will easily notice that this is one of the best profiles you can have.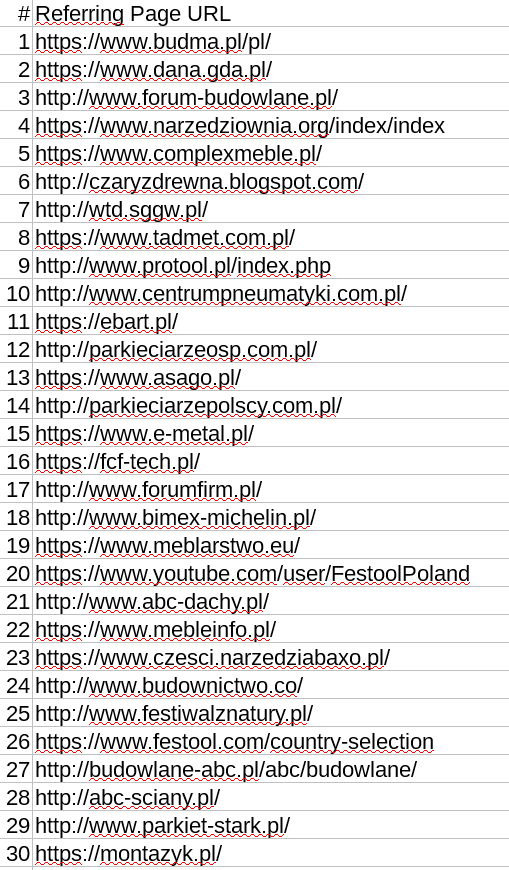 Top30 best links pointing to Festool.pl – source Ahrefs
It might seem that Festool, having such a strong link profile, will far outstrip the competition, just like Gemini Pharmacy. Unfortunately, the Festool website has a lot of glaring shortcomings. There is no optimization on the website, not even the simplest one. It doesn't even have optimized titles, H1, and very little unique content. The site also has several technical shortcomings (e.g. disappearing subpages, changing URLs with Polish characters).
The domain loses a lot of its potential and still achieves a pretty decent visibility score. Unfortunately, a large part of the phrases on which the domain is displayed are brand names. If the website was developed and properly optimized, then it would have a much better visibility.

Estimated increase in organic traffic of the Festool.pl website – source SemStorm
How to dominate the competition with the help of links
All websites that beat their competitors owe it to many years of regular work on their company and website. It cannot be achieved overnight and you need to have an action plan, which has to be implemented successively.
Backlinks are the currency of the internet. The more backlinks you get to your blog posts, the higher they will rank (assuming you've created "Damn, that's good" content.
– Greg Digneo ( Content Manager – Time Doctor )
To start competing with the biggest players, first of all, analyze their actions. During this process, tools such as Ahrefs, Majestic, Senuto, and SemStorm, or a free backlink checker, will come in handy. Thanks to them, you will find out what content they create, which subpages bring them the most traffic and what links they obtain.
Thanks to information gained this way, we should know how to expand the architecture of our website. We should also prepare a list of links that will be possible to duplicate.
Copying the competition will not help us overcome them, so we should go a step further.
The best links we can get to our website:
links from our direct competitors – these are the best links we can get for our website. Contrary to appearances, these links are not impossible to obtain. It is enough to approach the problem in a creative way and if we manage to exchange references, it is a win-win situation for both parties.
links from portals in the LinkHouse database. LH is a fantastic tool for all website owners. It will allow us to obtain links from many industry websites and portals on similar topics. We don't have to contact hundreds of people or remind ourselves about the publication. LH will do everything for us. All you need to do is select the appropriate pages and submit your article for publication. It is the simplest and most effective method of obtaining valuable links to every page.
industry websites – namely websites of producers, websites of tools and products, lists of accommodation bases in a given region, etc. It is worth getting interested in these types of websites, because they are often links for which we do not have to pay.
links from SEO agencies – every self-respecting SEO agency has a database of its own pages from which its clients are linked. If these are well-kept websites, with traffic and visibility, it is worth investing in this type of cooperation. Although you have to remember that you should only choose agencies with reputable and proven record like this SEO agency in London.
other meaningful references. If we participate in a conference, charity action or give an interview, it is always worth asking for the link. Even if the page itself is on a completely different topic, such a link will certainly help us.
The position of a leader in your industry is not given once and for all
Although the link profile is the most important element, we should remember that other components of the positioning process also have a significant impact on the achieved positions in the search engine results. It is worth mentioning here such things as:
content architecture,

page size and number of subpages with thematic content,

website UX and web development,

the quality of our offer,

number of brand inquiries,

the strength of our competition,

referral marketing activities,

user behavior on our website, etc.
If we want to aspire to the position of a leader, it is worth doing more and making sure that the website is friendly to both users and search engine robots. Therefore, if we refine the website and act according to a sensible plan, we should catch up or even overtake much stronger competition with time. It requires a lot of work and financial outlays, but if we aim high, we should at least try.
Author: Artur Krawczyk from Verseo