How to navigate the Linkhouse platform?
Have you created an account and don't know where to find the various functions, how to find your way around the platform and what you will find in the user panel? Be sure to read the guide below! We present a guide to the most important modules and functions of the platform. See how intuitively and quickly you can make orders in Linkhouse!
I am an Advertiser, where do I start?
After logging into your account, you will move to the main panel – the Marketplace. It is here that you can make orders for Guest Posts, Link insertions and Advertising Links. Currently, there are more than 80,000 portals available on the Linkhouse platform!
You can select a website by name or keywords. Then choose the right topic for your company, the language of the page and the amount you have allocated for the order.
Advanced search allows you to filter offers in detail and perfectly match them to your needs. You can enter the specific site parameters you are interested in, including visibility, traffic, backlinks, or domain rating. All data is downloaded thanks to Linkhouse's integration with Ahrefs, Semstorm, Senuto, Semrush, or Majestic. The information is updated in real time, every 7 days! This way you are always sure that the data presented reflects the actual state.
With advanced filtering, you can also select the type of website, or a specific province (this filter will be especially useful if you rely on local SEO).
Other useful filtering options relate to the parameters of the offer, such as the number of links, the number of images, additional promotions, the form of the link, or acceptable anchors.
After reviewing all the filters (there are more than 60!), you can search for sites that perfectly match your criteria! All that's left is to choose a portal, add the offer to your cart and complete the purchase process.
Modules
You can find all other modules in the Advertiser tab. Just expand it and select what you are currently interested in. You can choose from: Marketplace, Broken Links, Backlink Gap, Orders and Projects.

Backlink Gap
In addition to Marketplace, you may find Backlink Gap equally useful. It will save you time in planning campaigns or preparing offers. It will also help you quickly and easily find thematically related linking websites.
Backlink Gap uses the places from which your competitors have links. In this way, it selects the right linking websites for your business. It allows you to quickly and efficiently find domains that meet the following conditions:
-competitors have a specific link
-your website does not have this link
-you can purchase the link through the Linkhouse platform
Thanks to this module you will get everything done in a few minutes!
Want to learn more about Backlink Gap? Check out this article!
Orders & Projects
These modules give you control over your Linkhouse activities! You are no longer limited by copywriter or publisher hours. Thanks to them you have constant access to all your data in one panel.
Orders is where you search for all your orders and check their status. There is also an option to import links outside of the platform.
Linkhouse allows you to collect individual orders and assign them to specific projects. You can find them all easily with the Projects module.
Brief
Are you overwhelmed by the multitude of filters and don't know which will work best for your business? Do you just want to know how to perform the tool most effectively? You can ask Linkhouse Customer Service for help at any time! Fill out the Brief available in the panel or contact at the following email address: support@linkhouse.co.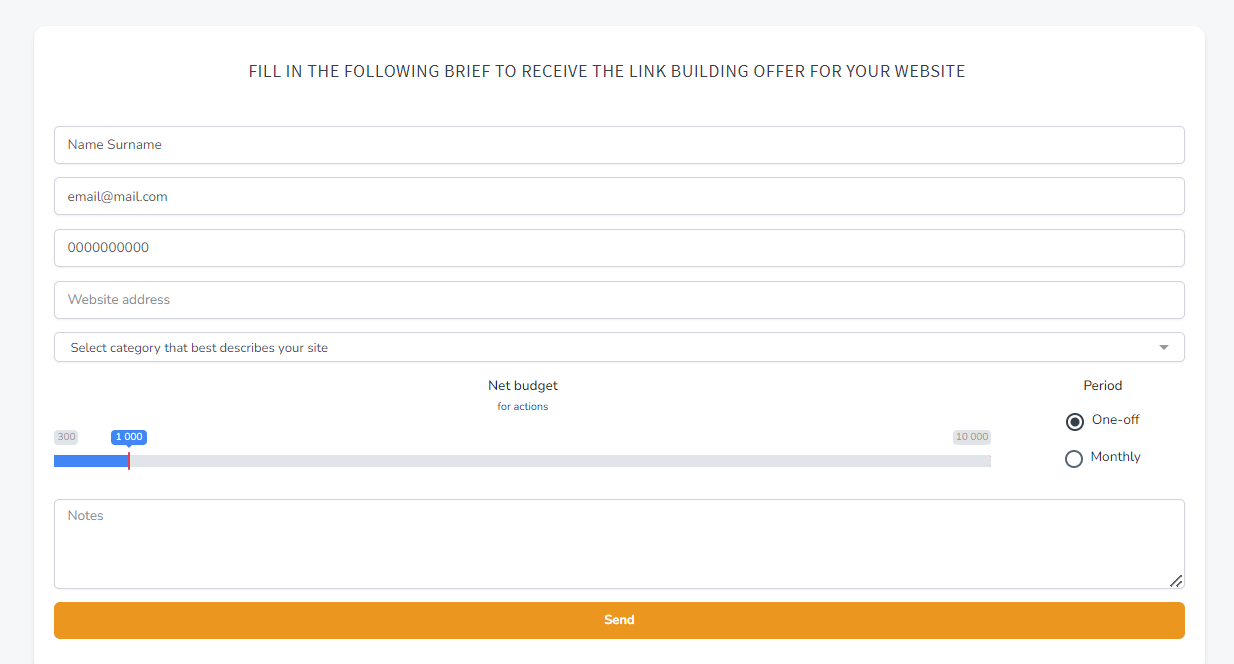 Finances
On the Linkhouse platform you will find a Wallet, where you can both deposit money and withdraw what you have earned. You will also find your entire order history there. All your payment information available in one place!

Summary
Use multiple functions, and complement each other. If you have any questions or concerns, please contact us! You can do so by completing the Brief in the panel, or write us an email address: support@linkhouse.co. We are here to help you!