PREVIEW, EDITING AND ADDING WEBSITES
To check a preview of your websites and offers choose from the menu the PUBLISHER button, then select the MY WEBSITES.
Use the button ADD A NEW WEBSITE to declare new websites. You can also do it directly from the menu, choosing the PUBLISHER button and then the ADD A NEW WEBSITE button.
If you had cooperated with Linkhouse before, you will find your websites in this bookmark. Any added offer for your website will be visible here.
You can edit this offer or add a new one (we cordially invite you to do so). In this bookmark you can edit informations about your website or disable your website (this action WILL NOT remove the website but will enable deactivation of all offers that are connected with this website). To acitvate the website (and all offers) click the same button.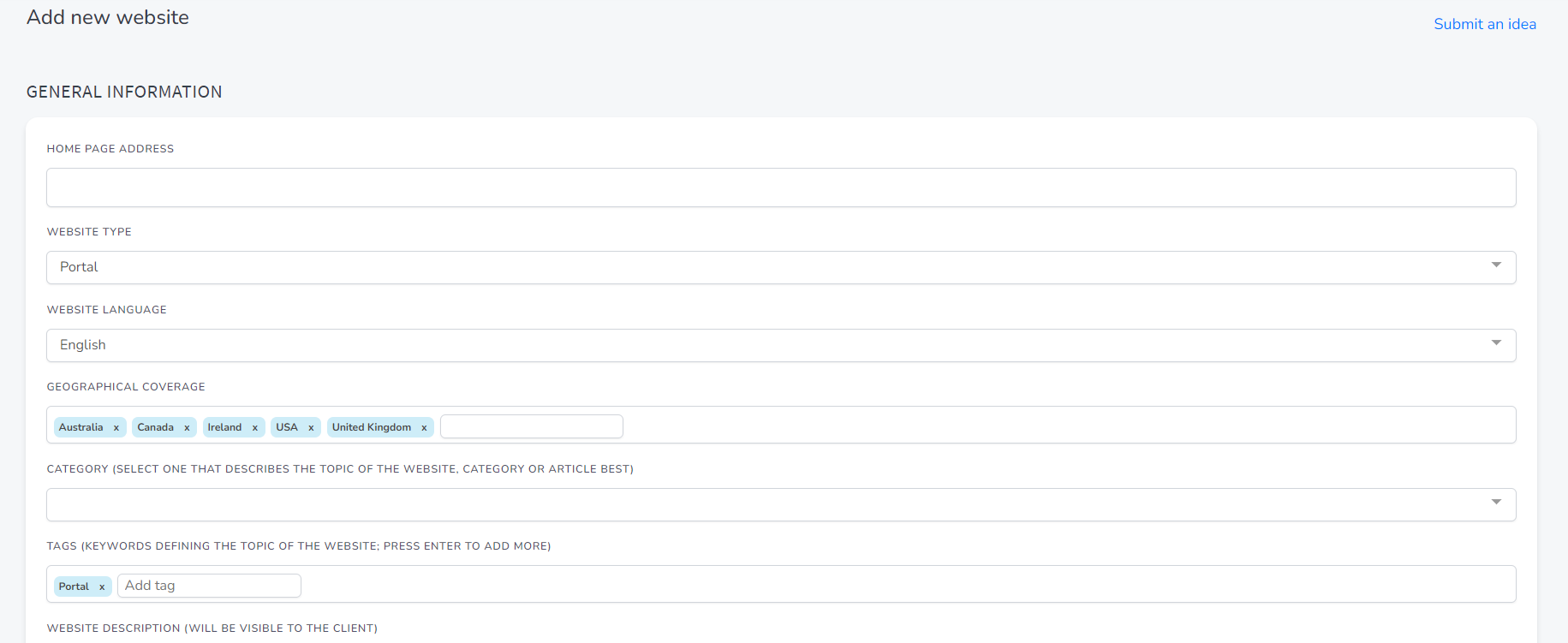 When you are adding website, you have to fill in the boxes:
Home page address – it must contain http:// or https:// and must not lead to the main page
Website type – you can choose between Portal, Blog or Forum
Website language – choose from over 20 languages
Geographical coverage – countries will be automatically selected after you choose a language. You can delete or add them, but only the language-specific ones.
Category – select one that describes the topic of the website, category or article best
Tags –  keywords defining the topic of the website. You have to fill at least three words. Write one of them and press enter to add more. They may contain a space.
Website description – describe shortly what do you publish on your website. It will be visible for the customers.
Prohibited subjects – if you have topics, which are forbiffen to publish on your page, fill them there. The portal's owner reserves the right to refuse publication due to the subject matter or low text quality.
Can the portal publish content related to the subject – if you offer to publish on any of the following topics, please select it. 
Target groups – choose which users are the audience of your website. You can choose more than one category. Parameters are based on gender, location, wealth or age.
Advertiser's Remarketing Tag – 
Statistics –
Social media/e-mail – you can add links to website's Facebook, Instagram or Twitter. It's also place to fill the number of addresses on your website mailing list.
When adding an offer, pay attention to the durability! You can set links for at least 12 months or indefinitely.
PREVIEW, EDITING AND ADDING OFFERS
To manage offers choose the PUBLISHER, then the MY WEBSITES and find a website that you are interested in.  Click + to ADD OFFER.
Now you can add offers from one of 5 main categories: guest posts, link insertions and advertising backlinks (text links and banners).
To preview and edit offers for the specific website click on the pen icon.
Here you can see, edit and turn on/off offers. Also, you can check status of your offers and give them their own names that only you can see – it can help you with managing the offers. To do so double-click specific offer in the column OFFER NAME.
Every new offer and an offer after turning on is moderated. Process of moderation takes max. 24 hours (during working days it usually takes few minutes).i